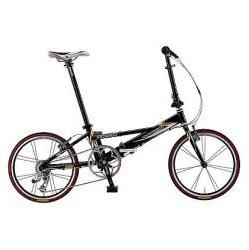 Dahon Marks 20th Anniversary with Limited Edition Folding Bicycle

Only 300 bikes to be produced and all profits to be donated to charity.

FRIEDRICHSCHAFEN, Germany— August 29, 2002— Dahon California, Inc., the world leader in folding bicycles, today introduced the limited edition Helios XX in commemoration of its 20th anniversary. The Helios XX is the most advanced bicycle Dahon has ever produced. Weighing only 7.7 kilos (16.9 lbs.), the Helios XX is the world's lightest production performance folding bicycle. Only 300 individually numbered and hand-painted bikes will be produced. All profits from this bike will be donated to grass-roots non-profit groups that promote cycling.

"When we first started 20 years ago, there was no folding bicycle market to speak of and our bikes were largely considered novelty items by the bicycle industry," stated Dr. David Hon, Dahon president and founder. "It's very gratifying that over the last 20 years, we have created an entirely new market and have helped get 1.4 million people onto bicycles. We're very happy to be able to give the profits from our commemorative bike back to the community."

The Helios XX is the most advanced folding bicycle Dahon has ever produced. It weighs only 7.7 kg (16.0 lbs.) and folds in a mere 15 seconds. The frame incorporates seven patented technologies and is fabricated from a proprietary Puro™ U6 alloy which is 25% stronger than T6-6061 alloy. Components include some of the finest and most exotic components available, including a SRAM X.0/ Shimano Dura Ace drive train, a custom Rolf® Prima wheel set, Nokon cables, and liberal use of titanium, carbon and magnesium components. The blazingly fast Rolf® Prima Accel wheel set is exclusive to Dahon and at only 995 grams, may well be the lightest performance wheel set ever produced. Finally, each bicycle will be individually numbered and hand-painted.

"To commemorate our 20th anniversary, we set out to produce the most exquisite folding bicycle ever built," stated Hon. "Only a lucky few will ever get to ride this bike but we are confident that they will agree that we hit our target."

Dahon will donate all profits from the Helios XX to non-profit organizations that promote cycling. Specifically, Dahon plans to fund small, grass-roots organizations that fall under the radar of the large philanthropic organizations. To decide on which organizations to fund, Dahon will host a competition and will choose three winners from around the world. Interested non-profit organizations can write proposals to enter the competition and Dahon will post these proposals on its website. Hopefully, even those organizations that aren't chosen by Dahon can get exposure and find other interested donors. Winners will be announced in December 2003.