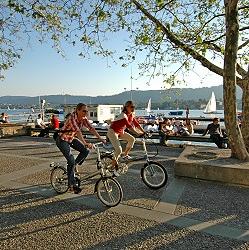 Double-Butted 7005 Aluminum
7005 aluminum is an aerospace grade aluminum that is 5-10% stronger than 6061 aluminum by most measures. Double-butted tubes are specially drawn so that they are thicker at the ends of the tubes, where they are welded and stresses are highest, and thinner in the middle to minimize weight. The process of drawing and butting tubes also work hardens the aluminum. Work hardening is a restructuring of the material at the molecular level when the material is heated to a specific range, for a specific length of time, and stressed to a specific degree. Work hardening increases the strength of 7005 aluminum by roughly 20%. Double butted 7005 tubes therefore, are significantly stronger than equivalent weight plain gauge 7005 or 6061 tubes. Double butted tubing allows frame designers to build strong, but exceptionally light frames.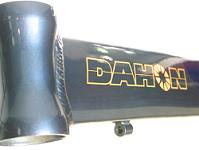 Sonus Tubing
Sonus tubing further increases strength and torsional rigidity with a custom profile. Sonus tubing is used on the main tube of all Dahon folding bikes and is massively oversized with a flat base. Sonus tubing increases strength and torsional rigidity by over 30% compared to comparably sized oval tubes.

4130 Chromoly Steel
When it comes to "liveliness" and road feel, quality steel is still the material of choice for many discerning cyclists. A well-built steel frame can last a lifetime. Almost all steel framed folding bicycles are made from low-cost high-tensile (also called low-carbon) steel. Dahon only uses drawn (work hardened), 4130 chromoly steel, which is 60% stronger than high tensile steel. Because of our chromoly tubing's significantly higher strength, we can use thinner, and therefore lighter, tubing. 4130 chromoly is why our steel framed bikes feel so "right" and weigh less than many aluminum frame bikes from other manufacturers.

Puro™ U6 Aluminum Alloy
Puro™ U6 aluminum alloy is 25% stronger and 20% more fatigue resistant than traditional 6061-T6 aluminum alloy. We worked with the suppliers of this material to develop custom tubes for our SlipStream fork, the lightest aluminum fork on the market.

6061 Aluminum
6061-T6 aluminum is the workhorse of the bicycling world. It is used to manufacture everything from frames to stems to cranks. It is relatively light, plentiful, and easy to work with. Most aluminum frames are made from plain gauge 6061 tubing. All Dahon aluminum frames are now made using Sonus 7005 double-butted tubing.