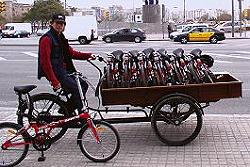 New on the Hotel Room Service Menu: A Folding Bike

March 2004 —A folding bicycle delivered to your hotel? That's the concept of Trixi Group's bike delivery service in Barcelona, Spain. Putting a spin on conventional bike rentals from a shop, Trixi's delivery service brings the bike to the customer taking reservations either online or by phone. "We want to make it easy for our customers. By bringing the bike to them, they don't have to waste time looking around for a shop," says Trixi Group president Gerald Caspari. "We want to be the Easy-Rent-a-Car of bikes."

Introduced in April 2003, Bike Rental Barcelona, as it's officially known, has already seen a lot of success -- and a profit. Its combined business of bike rentals and bike-taxi service saw over 30,000 customers in its first year. The bike-delivery service was started with a test fleet of twenty Dahon folding bikes. "We plan to rapidly increase our fleet to 60 to 80 bikes," says Caspari whose target market is two- to five-star hotels. "We have the infrastructure and the visibility in order to expand, first in Barcelona, and by 2005 to other cities in Spain – Valencia and Seville. Also, we've had a lot of press so now even the mayor and the Prime Minister know about our brand."

Besides convenience, accessibility is part of the key to its successful strategy. Bike Rental Barcelona is open 360 days a year, 7 days a week, 10 hours a day, with a website and a telephone hotline for reservations and service. The Dahon folding bikes rent for €19.99 per day (including delivery and pickup fee); they come with a city map, lights, and a lock; they're delivered in a zip-up bag; and mechanics are on-call to assist with any difficulties.

But why folding bikes? "Folding bikes make sense in a big city," says Caspari. "They give you freedom of mobility without having to lug around a bulky bicycle. If you get tired you can just fold up the bike, which only takes 15 seconds, and put it in the back of a taxi or bring it on the train. You can take the bike into a restaurant or tapas bar, and it's a lot easier and safer to store in your hotel room."

This is good news for companies like Dahon. Bike Rental Barcelona rents Dahon folding bikes, choosing the Boardwalk series for its city touring features, along with its price points. Dahon founder Dr. David Hon is excited about the arrangement and its positive side effects. "Customers renting our bikes in Barcelona have fallen in love with our portable bikes and this has translated into new sales for us and will continue to do so," he says. Another reasoning is underscored by the fact that London recently implemented a congestion charge requiring cars to pay £5 to enter the city center. "Urban cycling is the obvious solution to reducing traffic. By giving people on their holidays the opportunity to 'test ride' a folding bike, we might be able to turn these people into daily bicycle riders at home. We're seeing very positive results out of this in London and we hope other cities will follow suit," he adds.

Caspari agrees. "We expect a percentage of our profits to come from sales of our rental bikes and we are creating a rent-to-buy program to support that part of the business." Going to be in Barcelona anytime soon? Then log on to www.bikerentalbarcelona.com to reserve your bike now.